The Perfect Kombination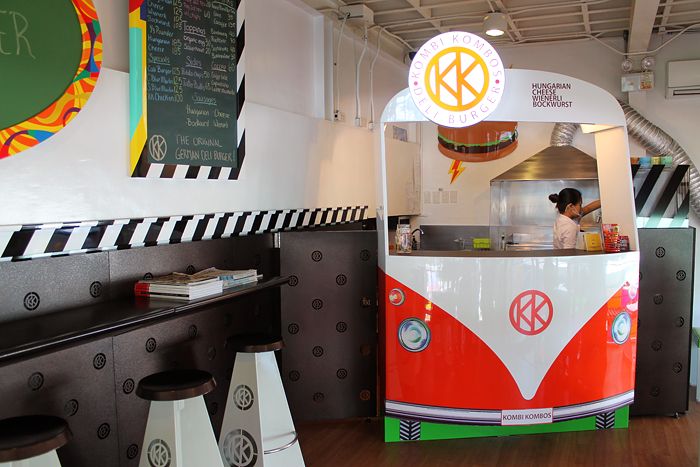 BEEFY HINT: Read 'til the end for some good news! 😉
Dear Kombi Kombos,
I'll have to admit, I did not know what to expect when I first stepped out of my car and walked towards the intriguingly glassed boxed joint. All the buzzing questions disappeared once I stepped inside your door and…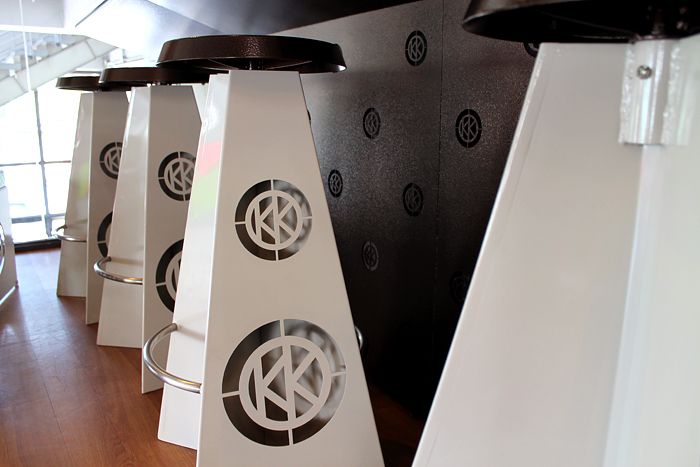 WOW! This is a pretty swanky place! Your vintage themed interiors were spot on! Not to mention the place was spotless as well (aka this O.C. girl approves)! ! I definitely wouldn't mind spending hours with my friends here.
We had a really great time! And not just because we've practically mastered the open mouthed pose. Haha! Thanks for letting us sample your German Deli Burgers. If you'd allow me, I'd like to describe your menu as German fast food-ish – sausage burger patties, sauerkraut side dishes, sausages, and good beer! I'm glad we ordered both the Bundaberg (ginger beer) and the rootbeer.
They were the perfect pairing to our Hungarian (spicy sausage patty), cheese (cheese infused sausage patty), and Cali burgers.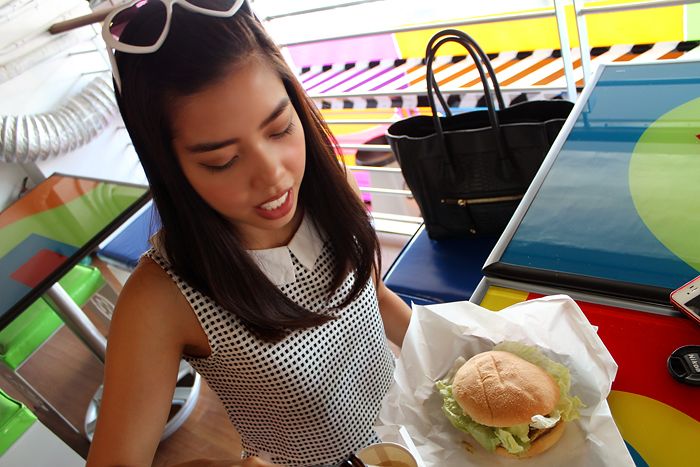 And as if the deliciousness wasn't enough, you served us with even more deli goodness! If only you had a branch in the south, I would surely bring my Dad and my Brother there – they would definitely enjoy! 🙂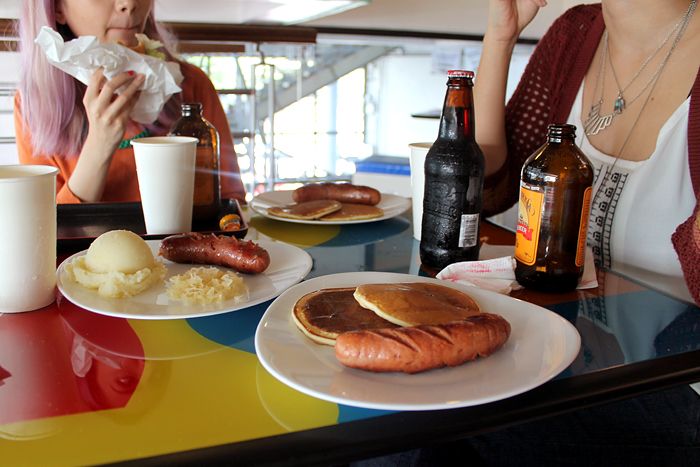 Of course, I couldn't end this letter without letting you know that your staff were some of the nicest people I have ever met! We just HAD to take selfies with them.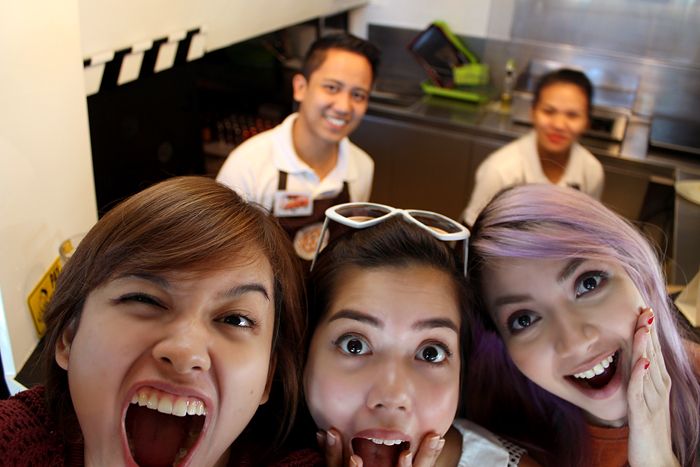 I can't wait to visit again! Especially on Thursdays – I heard you'll be giving out free burgers to the guys and gals who'll come in their best vintage garb! Count this themed shindig loving Beef in!
And so, I will end this letter with a big thank you. Thank you for the delicious lunch…in a pretty place, with great company (and free wifi lol) aka the perfect kombination! 😉
Love, 
My letter ends there, but I really did have a great time with Bea & Bestie at Kombi Kombos! Wanna enjoy a perfect kombination hang just like we did? Yes? YAY! Because…
I'M GIVING AWAY A FREE MEAL TO AN ENTIRE BARKADA (4 HOMEYS MAX)! All you gotta do is…
1. Like Kombi Kombos on Facebook and follow them on Instagram
2. Like this blog post
3. Share this blog post on your FB timeline (make sure it's public), tag Kombi Kombos, with the caption of who your three friends are (tag them) and why you want to take them to Kombi Kombos!
This giveaway will end in 3 days! So start sharing and tagging! We can't wait to see your entries! <3
Kombi Kombos is located at the 2nd floor of K2 Building, 341 Katipunan – right across Miriam College, above Mercury Drug. Store Hours: 11am-9pm, Monday-Saturday.