Ask The Beef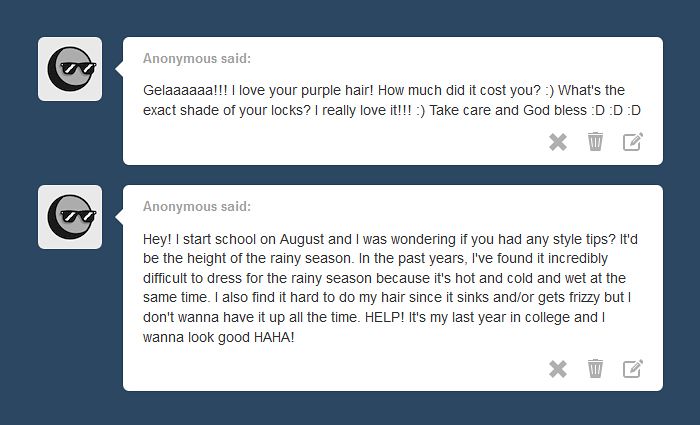 It's time for another round of "Ask The Beef"! 🙂
Anonymous #1: Hallo Anonymous! 🙂 Awww shucks! Thank you so much! :3 It cost me around Php 800-1,000 to have it done and the exact shade is…I just asked for purple! Haha! You can check out Glam Salon on Facebook, maybe they could help you out! 🙂 Take care also sweet one and God bless! <3
Anonymous #2: First of all, I would like to apologize for replying so late! Huhu! Hope I could still help you out even if school has already started! 🙂
I can seriously relate to this question because back when I was still in college (waw I sound so old haha), the weather or temperature for the day was always so unpredictable.
So, I cooked up this whole "Hot & Cold" strategy of dressing up for school (which, I also think, is perfect for this rainy/bipolar weather). It's all about dressing up half for the cold weather and half for the hot weather.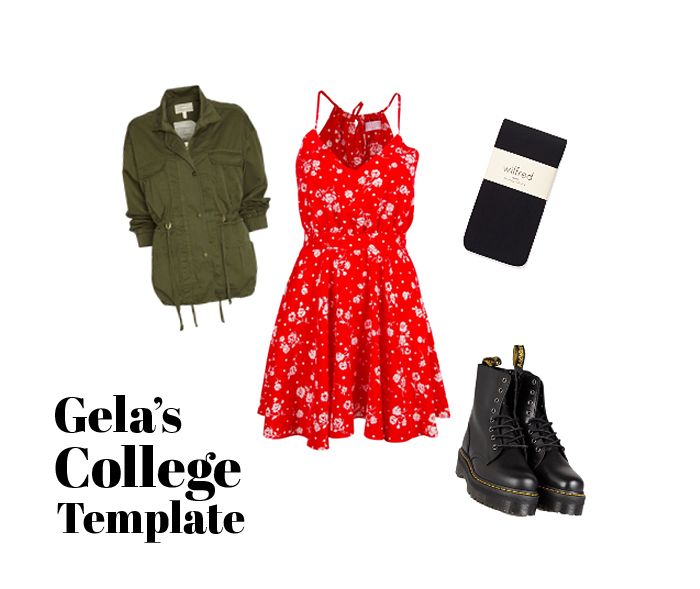 It's all about adding and subtracting! Pick pieces that you can easily add or remove from your ootd equation should the weather change. My college template/equation was cute dress + leather jacket + boots = I could wear the jacket (ADD) when it's cold and remove it (SUBTRACT) & tie it around my waist when it's hot. Yes, I always had a leather jacket (with a detachable hoodie nuhks!) in tow in case of cold situations.
Plus, you should also wear shoes that are versatile. By that I mean, they can survive/are comfy for both hot & cold weather. I recommend wearing cute sneakers or boots – that way you won't have to worry about getting them wet and dirty once the rain starts pouring!
It's all about adapting! Your ootd should be able to adapt to the weather. Hence, dress bipolar (half hot, half cold) since the weather is bipolar. HAHA! As for your hair, wear it down whenever you want gurl! 🙂 Bring a beanie or a hat in case the humidity starts frizzing it up to keep it under in cute control. Or don braids, a Miley bun, or one of those pretty Tumblr-y updos.
I hope I helped you with your rainy day woes! Tell me if my Hot & Cold tactic works out for you as well! Tag me in your ootds? 🙂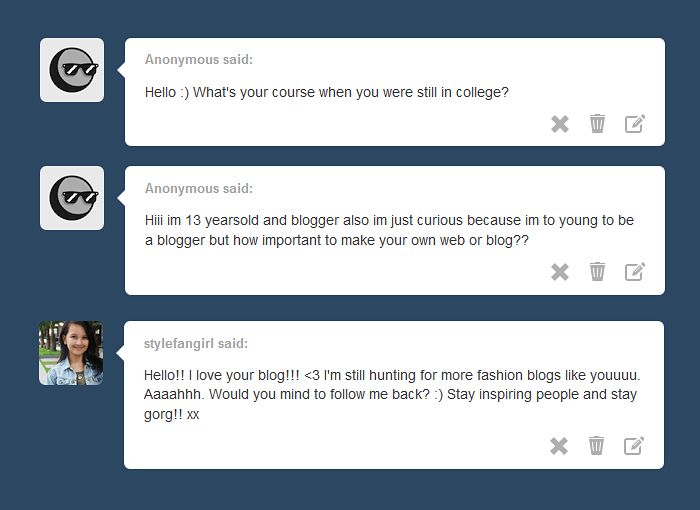 Anonymous #3: Hallo! My course was BFA Information Design! 🙂
Anonymous #4: Hi there! Sweetie, you're never too young (or too old) to blog! I say go for it! 🙂 One of my all time favorite bloggers started when she was only 12 and now she's a fashion force to be reckoned with (check out Tavi Gevinson)!
And yes, it is important to make your own unique blog or website so your target audience can learn and know more about you! 🙂
stylefangirl: Awww hallloooo! Thank you so much! <3 Followed you already! You're such a cutie! Let's go thrift shopping together some time? 🙂
Anonymous #5: Sure! Why not! 🙂
itskxr: Hi there! 🙂 Checked it out and followed you as well! <3
Anonymous #6: HAHAHAHA! If people would really join…then, why not?! That would be really fun/funny! 🙂 Hehe!
Seriously y'all! I love answering your questions! Keep 'em coming and have a great weekend! <3
All the best,