Let's Get Down and Dirrttyy!
And for a good cause too! A week or two ago my friend Jikay told me about her plans for this run and if I could "get dirty" for her…
And of course I said yes! See me in the poster saying "Yes"? (Hardy har har)
It's called Triple D – The Down & Dirty Dash! The first ever ALL-WOMEN (ahem boys losta girls..I mean women hahaha) fun run through a SUPAH FUN MUDDY obstacle course! Plus its for the benefit of Project Pink – a support group that aims to promote the awareness of breast cancer among Filipinas. A muddy fun run with all your gal pals for a good cause? Do you even need to think twice about that?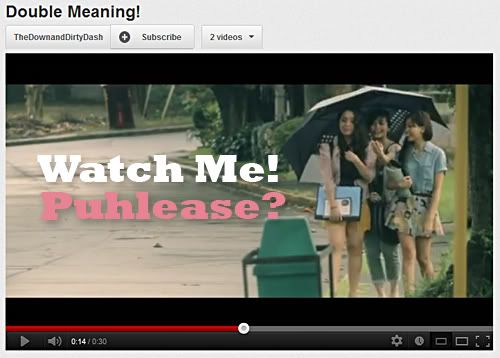 Watch one of the VIDEO PROMOS for the run that I was part of! 😀 Or you can also watch this OTHER PROMO VID with a special cameo from a super funny Youtube sensation everyone knows and loves 😉
You can register for the run over at Toby's Trinoma, Shangri-la, Glorietta, Curves Gym at Bonifacio Global City, and at Runnr in Alabang Town Center!
For more info visit their website at www.thedownanddirtydash.com (I spy my super asian pose) or check out their Facebook page!
LET'S ALL GO TUMBLR FEMALES OF THIS TUMBLR UNIVERSE (or all you game to get down and dirty women) and burn some carbs/calories/meats/whatevs together while getting muddy and running for a seriously good cause this October 13! See y'all there 🙂
All the best,