That Flannel Shirt
Hello everyone! I've decided to blog about today's outfit although its rather casual and simple, but its definitely very me! If you'd spot me on a regular weekday just running errands or what not, this would definitely be one of the outfits you'd see me sporting. And yes, my hair is fresh from the shower hehe.
Why "That Flannel Shirt"? It's because I've been searching high and low for this exact red and black flannel shirt since I dunno when! And finally this year, my fashionable cousin (hollah Arianne V!) saw one in Terranova PLUS it was on sale so she called me ASAP and I found myself in my house clothes rushing to SM Southmall to finally purchase the elusive shirt.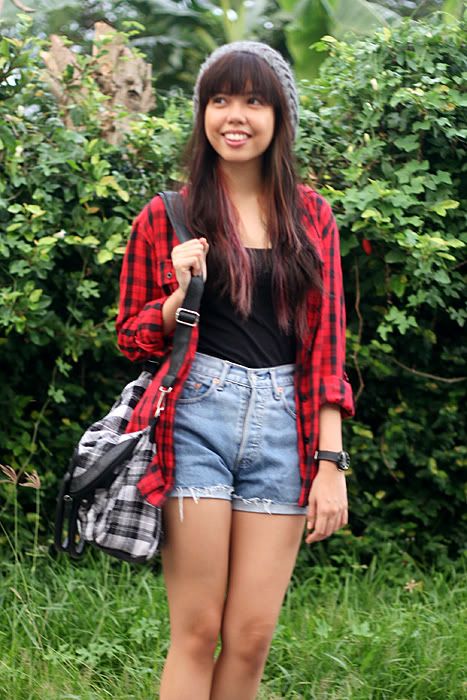 It's not that there weren't any red and black flannel shirts through the years. Yes, I know, you're telling me about the year when flannel shirts were everywhere in every color! I remember I remember. But, I just pictured this perfect fitting one, where the sleeves just fell right and with this certain kind of texture. HAHA Okay that's quite specific! But I'm sure we all have at one point searched for the perfect fitting black skinnies, leather jacket, white dress shirt, etc.
For those of you asking what I look like without makeup, well here you go! HAHA! But then most of my GIFs here and outfit posts are quite sans makeup? 🙂 My eyebags have been most prominent lately though. And it's all my fault! Wish I can break my bad zombie habits soon so I don't literally turn into one! (Hello to everyone still up and tumblin') Anyways, before we go into a health discussion thread haha!
Meet my Swatch watch! Haha! But it already has a scratch 🙁 I'm not really a watch person because most watches do not fit my tiny wrists (also bangles and a long list of other arm candies) but when I saw this one and tried it on, I just felt like we were meant to be together, tiny wrist and watch. Fate. Boom. HAHA!
So here's my latest Lookbook post "Lonely Boy" featuring that flannel shirt of my dreamssss! Haha! As of now, 2:34am, I'm 18 fans short of finally reaching 1k fans on Lookbook.nu! Help me make this dream come true? 🙂 Hype and fan me on Lookbook? 😀
And yes, I want to grow my bangs out already haha!
All the best,