ATC : Style Origins #2/Runway Model for a Day
Hey guys! Is it me or does the gloomy weather make one gloomy as well? But alas! We must not let the gloomy/lazy daisy weather stop us from Tumblin'! 🙂
Anyhoo! Here's part two of my ATC Style Origins experience. If you've read part one, I ended it with me saying how part two involves me, high heels, and almost tripping. HAHA! And it's because opportunity number two came in a form of walking the runway for Style Origin's fashion show at Alabang Town Center last May!
There's me on the far left modelling some awesome Petite Monde + Payless garb!
Once I again I was supposedly just going to help out the production with styling but God talaga, a surpriser of sorts, the show suddenly lacked models a day before and fast forward to Sunday that week, I found myself backstage feeling so short in the midst of legit runway models. HAHA! So glad that I was part of the community models (aka us less than 6 feet not so professional beings haha) and met a new set of Southern folks that I now bump into at ATC every now and then haha! My hair was styled by Azta Salon by the way, and if only I could find the photo they took of my hair, which was braided at the back amazingly, I'd share it with y'all!
Yehes!! That's me making sure I don't trip on the step down the runway! Better safe than be embarrassed I say hehe!
I was expecting the catwalk to be somewhat like the one from Outstownding, but this one was a tiny bit trickier to sashay on! What I'm wearing: Petite Monde floral mullet dress and Payless wedges (which by the way are insanely comfy! Gals who want to start wearing heels like me should get this pair to start their heeling journey).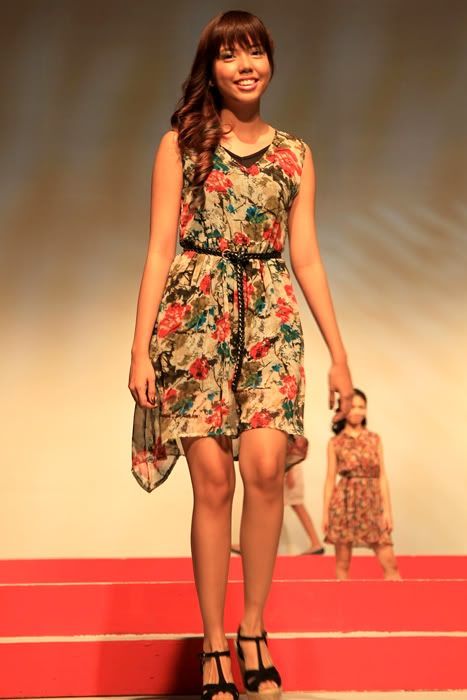 Next and last outfit was for Just G + Janilyn! P.S. You should check them out, they have great shoes! I especially love the gold foil wedges I used on Nova for the styling competition.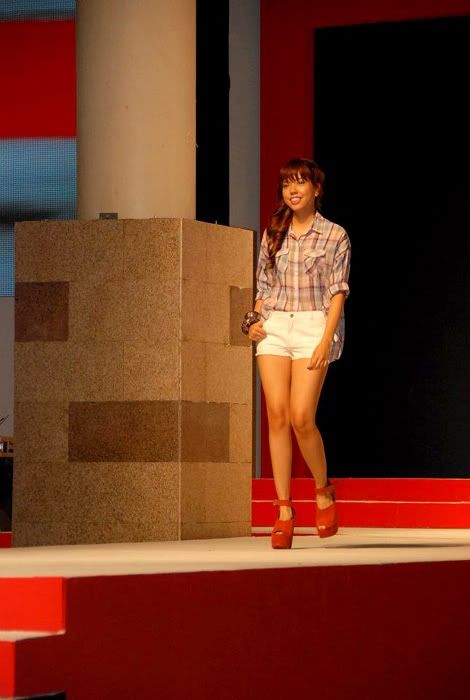 Funny story, I just literally got to try those shoes on right before I walked down the runway and they were insanely HIGGHHH that I almost tripped! HAHA! I almost tripped upon entering the stage, got a bit wobbly, then gained composure and thank heavens I did not trip the whole walk through! But people did see this almost-tripping-then-gaining-composure moment I had but, oh well! There's a first time for everything! 😉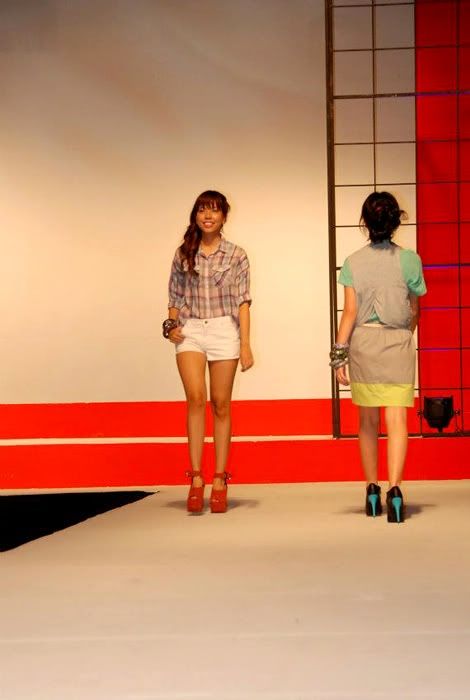 That's me and Alecx's back trying our best to not trip haha!
Overall it was an exciting and fun experience! I got to experience the whole fast changing time backstage surrounded by all the professional models who were just naturally inclined to be fierce and met a whole new set of friends! 🙂 And also, now I get to tell my grandchildren that I once got to walk for Style Origins at our favorite mall 😉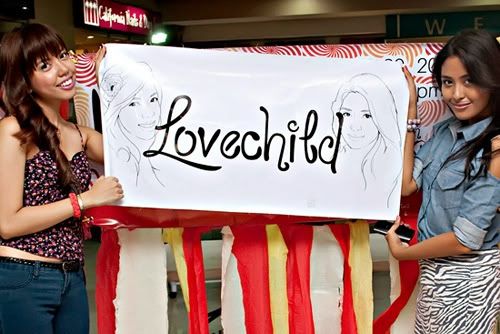 By the way! That day was also the last day of our HOORAH! Bazaar! So right after the show I had to run back to Pergola Mall to be with Lovechild <3 We look like the girls in the tarp don't we? Haha! Thanks for everyone who came and supported! Till the next bazaar (and runway show? hihi) 😉
All the best,