The Search for Truffles & The Disappointing Beef
I've been very busy with life lately I barely have time to tumble or anything! But it's all good. I think I'd rather be insanely packed with stuff to do than to be sitting at home doing nothing (aka Tetris Battle-ing my day away).
Monday was already scheduled for a day of taking photos of pull-outs for a fashion show I'm part of this March 24 & 25 at Alabang Town Center (please come, watch and support!) but I cancelled it and moved it because I needed some time out! So I spent the day chillin' with my cousin Pancho and brother from mah motha Kuya Alan.
We decided to eat at _______ and dayum was their beef disappointing. I LITERALLY had beef with their beef. We ate at this place a lot because their beef (and food) was good and affordable. BUT alas! I believe the beef took an arrow to the knee, and the gods have taken away their tenderness and goodness! It tasted stale, weird texture-y, and left-over-y 🙁 Boo to the hoo!
So, while my bro and cousin discussed video games, I decided to make my message clear (since there were no pens for the comments/suggestion slips) by expressing my disappointment via a…rice message.
Because, come on, every restaurant needs to receive a disappointed rice message once in their restaurant lives! Had no camera, so we used my phone. Hence the blurry goodness!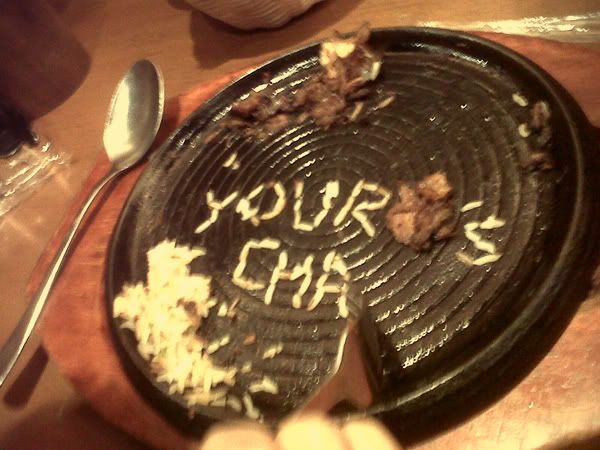 Pretty hard to separate the grains and form them into letters using your fork. But once you're in the zone. You cannot stop till you finish!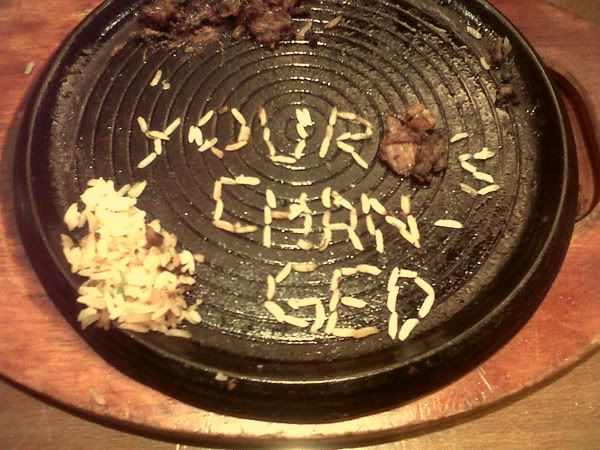 "Your *insert dollop of beef here*'s changed"
HAHA OKAY This is kind of a "sabaw" moment as y'all call it. But, I'm sabaw like that I believe :)) Hope they got the message! HAHAHA Don't judge meeeee!
ANYWAYS. On to more, sensible things in life. I think.
The search for the elusive Chocolate Truffle flavored Magnum has been on my checklist, ever since the Magnum frenzy ignited here in the Philly. I wanted to check out what the humbug was all about. So far, I've tried the Classic and the Almond one.
Verdict? Classic, keri. Almond, mas keri. I'm hoping the Chocolate Truffle one will be kering-keri. Everyone says the CT one is the best.
SOOO. We tried all the nearby supermarkets and 7-11s, and to our dismay. Waley!
Then, we went to Robinson's Supermarket and they had this whole freezer dedicated to Magnums. And again, all we saw were the classics and the almond flavored ones. THEN! I saw a box marked CHOCOLATE TRUFFLES! A couple was also there looking for them truffley ones and she asked her husband to open the box for us with his car key.
THIS WAS IT! I was finally going to taste the best tasting Magnum!
So the husband got the box and looked at all of us nervously as we awaited the unveiling of these hidden treasures.
But….it was empty 🙁 THE DECEPTION!!!!
So, we had to settle for the Almond ones and ate outside the supermarket, along with other Magnum lovers. We looked like a community of Magnum eating friends at the entrance. Haha!
That was a very random blog post. But that's what happened during half of my day last Monday. Hope you enjoyed reading through the sabawness of it all (hello rice creation)! Tell me if you've tasted the Chocolate Truffle ones! 🙂
What is normal?
All the best,