Meet the Penguins
HELLO THERE! It's me! The M.I.A. Beef! Haha! Just going through life stuff and hoping I can get myself together soon and figure it out ASAP because time's a tickin'! In hopes of reminding you all that I am still alive and tumbling, here's a souupperr late post on our trip to visit the penguins at Manila Ocean Park!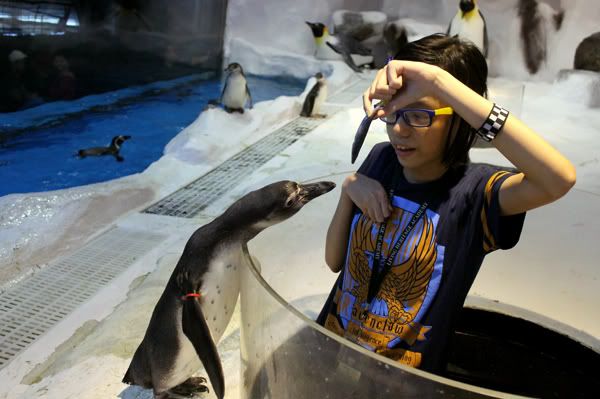 Here's my little sister, the penguin lover (and Harry Potter lover) with her penguin feeding encounter! You can meet and feed the penguins for, okay I forgot how much. (Haha proves how long ago this was taken!)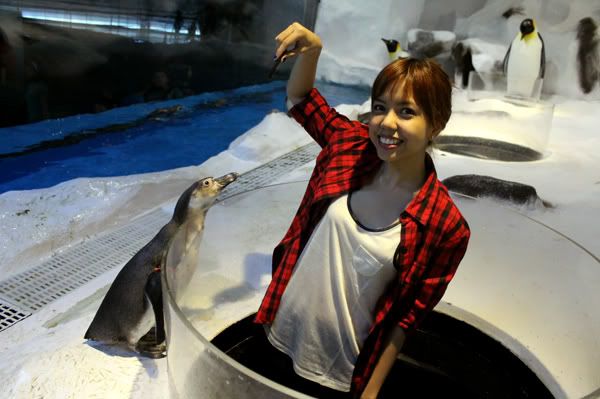 Here I am! Haha I'm cheeky and root-y! This was when my red hair was dying dead and as my friend Bea would like to call it, it was colored "corn dog".
So my first sardine or whatever fish that was fell and I had to go try again. This greedy little penguin of cuteness got to eat all the fishies while his fellow mates swam around. (Spot the lone penguin checkin' out his homie eating the fish all for himself nyawww)
We're taller than our Dad!!! Haha we wish. The woman said wacky photo, like the last second we had, and I panicked! Hence, the freaky half open half closed conclusion my face has offered y'all. I love my family…and penguins. You should go visit them at MOP! And all the other cool fish (SHARKSS!!) and mermaids! Now I must go because we have a WiFi curfew now. (Curfew HITS son! -Jech Tiu)
All the best,