All That Glitters is Gold
Hello Tumblrettes and Tumbroes! (Haha I'm copyrighting that just in case it goes viral) For the sake of updating and somehow imparting knowledge(?) NAIL POLISH knowledge that is, here's nailpolish I bought last week from the ARMY!! No really!
I've been into metals lately and shimmery things (and Miley Cyrus) and so I gravitated towards these two bottles of love and gold! I wanted to try the FOIL NAILS trend but alas those are hard to find and apparently only available in Thailand? Singapore? Here in Asia.
Tried them on as soon as I got 'em hence the silver glittery one on top of bare nails. They remind me of fairytales, more specifically, Cinderella and her glass slipper. I recommend putting a silver base coat first for sparkly goodness!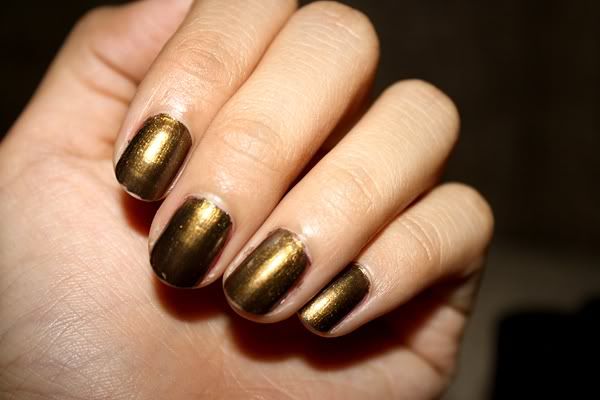 AND this nailpolish is my December staple/favorite for now. It's so gold and superstar-ish. Hohoho! Matched my then golden brown blonde hair but who said gold and red don't mix? :p
Anyways, this was a random post. HAHA! Hope you liked it! Buy ARMY NAILPOLISH! They're cheap (Php 89.00) and come in awesome colors and have a good nailpolish…consistency? Substance? WHAT AM I SAYING HAHA! Goodnight y'all 🙂
All the best,