Seize the Day!
Hey y'all! I haven't been posting much since "the working girl life" (ugh I can't believe gave that a title haha) has been a bit hectic! I feel like I don't have free days already because I promised myself that despite getting a job I will STILL continue to: play gigs, cover songs, finish my TV Hosting show, jam with my band, Lookbook on weekends, seize every weekday opportunity from 6pm till onwards, and just still reach for my dreams despite the 9am to 6pm hindrance. But ya know, had a fun day at work yesterday 😉 Hope I can post photos on that next! We had a cover shoot (we got Mega Fashion Crew's winner Chelsea Robato) and a Candy-mag-esque shoot wherein they got me to model :(( (Thank you Lord forever)
ANYWAYS! Here's on of those CARPEDIEM TAKE EVERY OPPORTUNITY things: Garfield Clothing's Fun Run at Manila Ocean Park! 🙂 I was tapped to be the girl host for this event and I had so much fun! And it was such an adventure because we were up and about by 4am for this event! 🙂 Hooray! I'm with Garfield! Oh you fatty orange catty!
Here's me being weird flailing my arms around because I didn't want no photos taken of my I woke up at 3am face. Oh and here's my 4 colored hair! Haha! It's confused, it doesn't know its true color!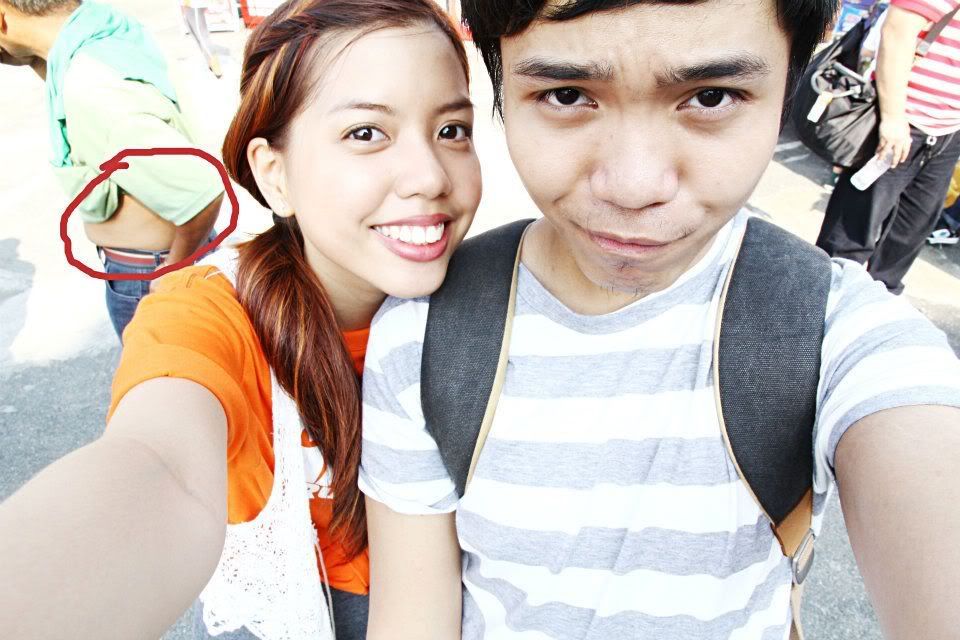 Say hello Jake! He's an awesome all around artist! One of the artsiest people I know! Check out his portfolio! Love ya Jakey! He was one of the photographers for the event too! (OMG Sorry for the encircled tummy over there HAHA JAKE DID IT HAHAHA)
And of course, how could I not take an outfit photo?? HAHA! Lookbook Garfield edition? :)) I was originally wearing a grey top, that white vest, and shorts, but then I had to wear this Garfield shirt for the event so I did some on the spot stylin! HAHA! Hype me? :)) I'm kidding.
Hey that was my first text + photos blog post evah! HAHA! Hope y'all like it! More adventures and life thangs soon 🙂
All the best,